SSL
47 W. Pike, Canonsburg, PA 15317
Phone: (724) 745-9116
Fax: (412) 291-1367
Email


USING YOUR HAIR RECEIVERS

This page will show some modern day uses for hair receivers ... please send us your ideas too!







Some ideas for using hair receivers today:

Potpourri holders
Hair (yes, make your own ratts!)
Rings and small jewelry
Pocket change
Soap dish
Ikebana vase (with flower pin insert)
Incense burner (with incense holder)
Scented oils (use liner in bisque bowls)
Q-tips
Cotton balls
Paper clips
Safety pins or straight pins
Rubber bands
Powder jars

These are just some of the ideas we have come up with.
What can you think of?

SCROLL DOWN FOR PHOTOS BELOW


Ikebana Floral Arrangement (with Pin Frog in Holder)

Incense Burner (with holder)

Scented Wax Chips

Cotton Swabs (pull a few up for easy access)

Cotton Puffs

Paperclips

Pocket Change

Safety Pins or Straight Pins

Fairy Light (battery operated candle)

Flower Petal Decorator Soaps

Floating Candle


Powder Jar
Check back here frequently for updates or sign up below
*Shipping and handling included within Continental U.S.
To see photo gallery of all previously SOLD compacts and vanities, click here.
Perfumes | Dresser Boxes | Hair Receivers | Powder Patters | Vanity Sets | Miscellaneous | Objets de Vertu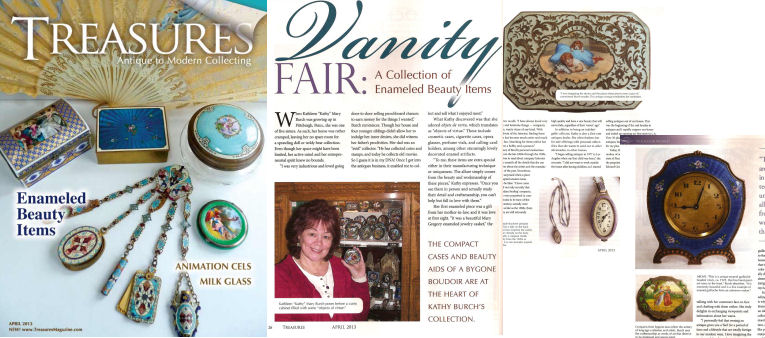 Featured article (and cover photo!) in Treasures Magazine, April 2013. Click on image to read the entire article.


~From the Owner's Collection~
Due to many of my customers' requests to see some
of the hairreceivers from my personal collection, I have
created this page to share some of my special items
with you. Remember....they are just for your
viewing pleasure and not for sale.


Tri-State Antique Center
47 W. Pike
Canonsburg,Pa. 15317
724-745-9116
Visit one of our Many Other Departments:

Copyright © Tri-State Antique Center