| | |
| --- | --- |
| Subject: | Card Table & Chairs |
| Date: | Sat, 17 May 2016 |
| From: | Dan Saad |
Hi Kathy,
Again many thanks for your good help yesterday and being a wonderful human being! Thought you may enjoy a picture of what I picked up yesterday and where it landed in our home. If we find some time this summer, Lynne and I may take a stroll into Canonsburg for a visit at your shop. I'll give you a heads up if we do.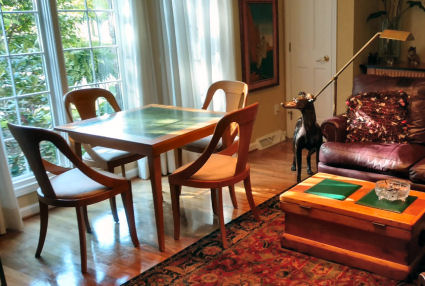 Dan

| | |
| --- | --- |
| Subject: | Fisher Compacts...Holy Cow! |
| Date: | Mon, 14 Sep 2015 |
| From: | Erin O'Brien |
Hi, Kat...
I received the Fishers (compacts) today and I was speechless!! Seriously, they are truly works of art and I now fully understand why they are so sought after! They are STUNNING and I originally bought them as an investment and was going to resell in a few years when the collectibles market came back ... NOT GONNA HAPPEN! These are 'keepers' and will be added to my collection!! Also, the condition is AMAZING!!
Thanks again, Kat! Look forward to doing business again in the future ...
All the best!
Erin


Subject: French Bronze Enamel Guilloche Mirror (only)
Date: June 6, 2014
From: Ligia Klaver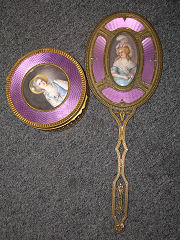 Hi Kat,
I received the mirror today and it's breathtaking. It's so large and striking! Wow. Although I read the dimensions on your site, I still didn't expect it to be so big!
The portrait is one of the largest and loveliest I've ever seen on an antique mirror. I already possess several high quality French portrait mirrors and I've seen dozens of others, so I think I know . . . lol. The colors of this mirror are beautiful and the lady's 18th century period dress and hair ornamentation are gorgeous.
Thank you so much for the layaway and the careful shipping. I knew I would love it! It caught my eye the moment I saw it on your site! :0)
........ Ligia
Note: This purchase was for the mirror only, not the powder box.


Subject: Egyptian Influence Sterling Silver Enamel Guilloche Pendant Watch
Date: May 20, 2014
From: Rose Lewis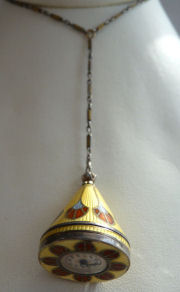 Hello Kathy,
The beautiful watch has arrived safely and has been ticking happily since. You are right, the watch is way better for real than the photos show. I am happy to leave well (enough) alone. It really does not need any restoring. Thank you so much for a very lovely watch which will be much treasured.
Best wishes,
Rose

Date: May 6, 2013
From: The Horas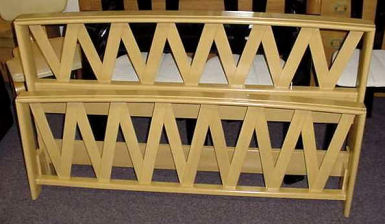 Hi Edward,
We received the bed ... Very pleased, it looks great! It was well packed, arrived undamaged. The driver called for directions about 3 hours in advance. He arrived on time, was courteous & efficient. It was a pleasure doing business with you. Thanks again
- Kate & Thomas

Subject: Lilac Schuco Compact Bear
Date: October 29, 2012
From: Linda Hallowes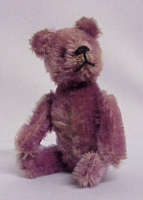 Hi Kat,

Just to let you know little bear is safely at his new home (I haven't decided on a name for him yet!). I decided to collect him myself from the post office depot at Rotherham where he was being held awaiting customs charges.
Kat, this little bear is absolutely adorable - I love him! His expression, colour and condition are amazing! I am so pleased with him! I'm showing him off to everyone - he's quite a little star!
Thank you for your help in getting him to me, it's been a pleasure dealing with you - I shall treasure this little bear forever!
Best Wishes,
Linda (Great Britain)

Subject: Compacts Received
Date: August 19, 2010
From: David Shiakallis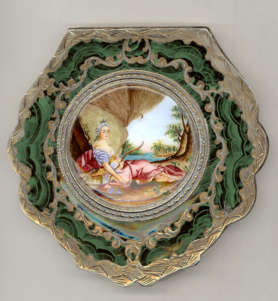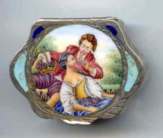 Dear Kathy,

I have received the 2 compacts! Great pieces! Excellent!
I am very pleased with them and your overall customer service and I am looking forward to future deals with you again!
Thanks again and my best regards,
David Shiakallis (Isle of Cyprus)

Date: Monday, February 22, 2010
From: Johnny Mathis
Kathy,
Today I received the compacts that I ordered. Before I opened the package I thought that the speed of delivery was amazing - but after I saw the beauty and condition of the compacts, I knew that the fast delivery wasn't an accident. I was absolutely awed by the quality of each compact. WOW!!!!!
Tri-State looks like a class act!
Thanks a lot................
Johnny


Subject: French Bronze Vanity Set
Date: Friday, July 11, 2008
From: Judy Warren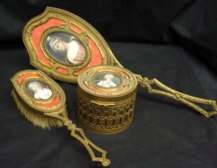 Hi Kathy,
My wonderful purchase arrived late yesterday ...... I just love it, thank you so much. I'll keep watching and hope to buy again.
Best regards,
Judy


Subject: Victorian Candle Lamp with Crystal Prisms
Date: Friday, June 27, 2008
From: Joan Cleary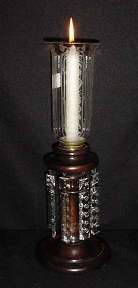 Just to let you know how delighted I am with this order. A bit of history to explain ... I have a pair of Victorian candlesticks I inherited from my Mother. They had belonged to her father who lived in New York, NY and died in 1913. Several years ago one of the chimneys was broken. I've been searching ever since for a replacement, for the candlesticks mean a lot to me. Spent much time on line with no success. I'd decided to throw in the towel and get a pair of plain glass chimneys. As I was doing a final search, your site came up and to my surprise there was this candlestick which looked like it had the same chimney I was searching for; your description fit too. When it arrived, no question, the chimney was identical to the one I have! What a thrill. It was also interesting to compare the candlesticks themselves; they all appear to be mahogany, same style turning although the scale on mine is somewhat heavier and there are no lustres. Obviously I am so pleased. Any idea of the provenance of the one you sold me? You have a great site too.
Cordially, Joan Cleary

Subject: Purses For Sale - #7712 and #8769
Date: Thurdsday, March 20, 2008
From: Deanie
Hi Kathy. I received the purses yesterday and they are all I thought they'd be. I adore them! Thank you so much for the magazine; very interesting - and the article on the tapestry purses was very informative and quite pleasing to the eye, as the pictures were beautiful. It's been a pleasure 'meeting' you, Kathy, and doing business with you. I have no doubt you'll be seeing me again ... whether you want to or not. :-) Thank you.
Regards, Deanie

Subject: Heywood-Wakefield Swedish Modern Bedroom Set
Date: Saturday, 23 June 2007
Hello Kathy and Ed,
I have meant to write and let you know how pleased I am with the bedroom set. Craters and Freighters (or you?) did a great job of packing the items. No damage . . . just lots of work opening everything. I found another 4 drawer chest, 2 nite stands, and am having a king size bed made from 2 full size. It will look so beautiful when it is all together.
Thank you so much for the great service and the wonderful furniture and lamps. I am thrilled with everything I purchase from Tri-State.
Barbara Austin

Subject: Received Lamp
Date: Friday, April 28, 2006
From: Ernest Camacho
To Tri-State Antiques:
Just want to let you know I received the lamp and I am very happy, especially with the fantastic job Ed did with packing, Thanks Ed, anyway a job well done for Tri-State and an academy award to Ed for packing.
Once again thanks to all.
..... Ernie


Subject: Westwood Chadwick Art Deco Clock
Date: Saturday, March 4, 2006
From: Larry Pelton
I purchased the Westwood Chadwick art deco mantel clock about 2 months ago. I just wanted to let you know how pleased I am with it. At first, I hesitated to purchase it because of the price, but it was well worth the expense. I had it cleaned and serviced at a local clock shop, and it now seems to be in perfect working order. The brass on the face has cleaned up very nicely, and it is the perfect complement to my home decor. Everyone who has seen it -- including the guys at the clock shop -- has commented on how unusual it is.

This was my first online purchase of an antique, and I am very satisfied. I will keep checking back on your inventory.
Larry, Memphis, Tennessee


Subject: Gucci Cupid Sterling Compact
Date: Wednesday, January 18, 2006
From: Francine Feir
Hi, I received the above compact today. I do love it and I want to thank you for sending it so quickly. I will be watching the internet to see what you add to your list.
Sincerely,
.................. Francine Feir


Subject: VANITY PURSES
Date: Monday, October 24, 2005
From: Dickter, Sally
As always, it's been a pleasure to do business with you. There is a link to your site on the Antique Purse Collectors Society website. I believe it says about Tri-State, "if you want the best and can afford it." I've learned that less than the best in never satisfactory for long ... and that I can find the best of what I want at Tri-State -- at a fair price for the outstanding quality, rarity, and service. And you can quote me.
Sally



Subject: Purse Arrived!!
Date: March 1, 2005
From: JBader5058@aol.com
Hello Kathy,
My purse arrived this afternoon. It is always so exciting opening a package from Tri-State. It is so beautifully wrapped. The penny inside is so clever and was a neat surprise. I am convinced that the purses are always more beautiful than what the pictures show on the computer.
Thanks again for making this dreary day a joyful one...........
Rae

Subject: FULPER Cleopatra Powder Box
Date: January 17, 2005
From: L Guardi <lguardi@earthlink.net>
Hi Kathy!
She's here! She is wonderful!! I am totally delighted with her. I can't blame you for not wanting to part with her. She is gorgeous and the glazes are exquisite!
Your service was great too -- she arrived without a mishap, though she was COLD (it's this weather) and she was packaged extremely well, even expertly.
Hope to purchase from you sometime again.
Kindest regards ...
Lady L. (Lauri)


Subject: I CAN'T BELIEVE IT!
Date: August 4, 2004
From: Sally Dickter
I just received the Whiting & Davis Vanity Purse - and it's even more gorgeous than my expectations! The condition is exactly as you represented it (actually, better) in all those e-mails and photos. The packaging was perfect. And it arrived even sooner than I anticipated.
In all of my years of collecting all kinds of things, this is the largest purchase I ever made online -- without actually seeing and touching the item. Your patient service and quality merchandise have calmed my fears -- and proven, again, that working with a reputable dealer is always a good experience, regardless of how you purchase.
It's a pleasure to add such a gem to my collection ... and to do business with you.
Sally


Subject: Petitpoint Purses #9864 and #8765
Date: April 7, 2004
From: lily <kazulily@kojima.net>
Dear Kathy
Hi. Today I received the purses safely. Both of them are so lovely! I really love them. They will become the most favorite purses of my collection.
Thank you for selling me the superb and beautiful purses!! ;-D
Regards, Lily (Japan)




Subject: Order for Compacts
Date: June 20, 2003
From: Sally Berger <luvbotls@pacbell.net>
Hi, I just wanted to let you know that these two beautiful compacts arrived and they are perfect! Thank you so much for such beautiful and pristine items. These are the third pieces I have ordered from your website and they have all been exactly as advertised and in excellent condition. This is greatly appreciated.
Many thanks!
Sally




Subject: Picture of our dining room
Date: Feb. 12, 2003
From: "Hania Kutcher" <hkutcher@buckeye-express.com>
Our dining room looks fabulous! Your guy did a great job! (refinishing)
Hania and Jeff Kutcher


Subject: Little Green Compact!
Date: Feb. 21, 2003
From: Esslarson@aol.com
Hi Kathy,
It came today and it's about the cutest thing I've ever seen. I got it to go with one of my all-time favorite beaded purses ... which just happened to come from you also ... an awesome beaded peacock purse, with amazing fringe, and a green celluloid frame. Remember? Anyway the little compact perfectly matches the frame ... like they were separated at birth! ;-) Thanks! Can hardly wait for the other two!
Sue Larson




Subject: YAYY!!! (Danish Modern Wooton Desk)
Date: Jan. 31, 2003
From: Linda Anelli <tbrook@sover.net>
It arrived this afternoon and is in a temporary place in the hall till it goes to the den to become the fly-tying desk!! Michael was surprised but loves it too - it really is a gem! The truckers were all so nice to deal with to arrange a time and keep it a surprise!! Needless to say, you have made a devoted new customer!!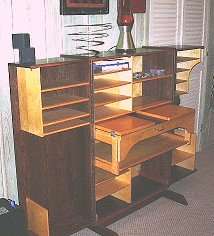 Thanks again for so much effort and attention to details - I never would have believed I'd buy something so "substantial" over the net - I feel like Judy Jetson!!
Best, Linda


Subject: Heywood Wakefield Desk
Date: Jan. 16, 2003
From: John Capra <johnc@leidys.com>
In a world of internet scam artists and misrepresented merchandise, your company stands head and shoulders above reproach.
I just received the desk I ordered from you and it truly is beautiful. Your description of it underplayed its condition and its coolness factor. I had some of my antique buddies over to see it last night, and they all raved about it.
Even though we never met in person, I feel like I was treated as a friend, as well as a customer. The price was very, very fair. Almost too cheap for what I got, and considering its lineage. Needless to say, I'm a very satisfied customer, and would never hesitate to purchase from you again, or to recommend you. I also think it's great that your prices include shipping. That way, there are no surprises, and it makes the whole buying experience much easier and more enjoyable.
Thanks again and good luck,
John


Subject: Re: Tri-State Antiques Order # 2001020 (Heywood-Wakefield Sofa & Chair)
Date: Jan. 4, 2003
From: adrianandtoby@earthlink.net
Hello and Happy New Year! Just wanted to drop you a line and let you know that the sofa and chair arrived safely on Monday and we love them!
Thanks for a pleasant long-distance shopping experience!
Sincerely,
Toby Demain

Subject: Compact & Vanity Purse
Date: Aug. 19, 2002
From: DNDCEW@aol.com
Kathy,
My package just came. They are both gorgeous!! Thanks so much for letting me do the long layaway. I could not have got them any other way. You have such wonderful things!!!!! Your website is still my favorite!!!! I am interested in another purse and compact and will contact you later. The compact is absolutely fantastic!!! I have never seen anything like it. It is even prettier than the picture. I was expecting it to be larger, but I love the smallness of it. I will cherish them both forever. They are fantastic!!!!! Can't wait to get some more.
You can rest assured they went to a good home!!!!!!
Thanks!
Dixie Waid


Subject: Heywood-Wakefield End Tables #M791G
Date: 2002-7-16
From: "Donaldson, Tyler" <TDonaldson@polshek.com>
My tables arrived yesterday. They look terrific and I could not be more pleased with your company and service. If anything, the tables are in better condition than they were described on the website. I was even pleased with how well they were packed.
Thank you, and best wishes for your business. I'll keep checking back and maybe find something else!
Tyler Donaldson


Subject: Ken Workout Oufit
Date: 2002-7-15
From: T. Gene Hatcher (tgene@worldnet.att.net)
Dear Kathy:
I'd like you to know I received the Ken workout set in time, and it's even funnier than we'd expected. We especially love the little workout book.
I discovered your store is far, far, far more than a source for Ken clothing . . . I'm going to sit down and find out what else I can find at Tri-States.
Thank you very much. I look forward to doing business with you again.
Tim Hatch


Subject: Item 9854 Purse
Date: 2002-5-21
From: Summer22@aol.com
Hi Kathy,
I wanted to let you know I received the purse today & I love it! Thanks for packing it so carefully. It's gone to a good home :-)
Have a great evening. Hope to do business with you again.
Delores


Subject: Blue Herman Miller Swivel Chair
Date: 2002-2-27
From: macontorno@aol.com
Hi,
I just wanted to tell you that I am very happy with the blue vinyl Herman Miller Swivel chair I purchased. It is in excellent condition as you stated and you sent it so quickly.
You are wonderful to deal with and now I know where to look when I'm looking for Mid-century items.
Thanks again,
Mark

Subject: Compacts Received
Date: 2002-2-7
From: taupe6@earthlink.net
Thank you Kathy. I'm so glad you have the layaway option and the i-check. I got the two compacts, both of which were even nicer than they appeared on-line. In fact I was so smitten with the green saddle bag shape Elgin compact that I had to get the White Elgin, #8214, which is the same style.
I appreciate the details provided on each piece, especially the dimensions which is very important. And the variety of photos, especially the interior ones. Also, I really appreciate how well you wrapped the package to protect the contents.
You have the nicest selection of compacts I've found, the best quality, the most informative descriptions, and most thorough photos. Love browsing the site.
Thanks again. Great website!
Myra

Subject: #9141 R&G White Gold Silhouette Compact with Finger Ring
Date: 2002-1-29
From: LaylaDrucillaSg@aol.com
Hi Kathy,
This compact arrived today and it is gorgeous! So far, out of all the items I have ordered from these particular sites, this is only the second item I have really been thrilled with and I am certain that I will like your other merchandise just as much. Thank you also for your promptness, your patience, and your excellent packaging.
Thank you again,
Yvonne

Subject: HW Tambour Buffet has arrived!
Date: 2001-12-24
From: sbreich@facstaff.wisc.edu
Dear Ed,
The Heywood Wakefield Buffet arrived in great shape - it is beautiful! Thank you so much for all your care and communication during this transaction. Thanks again and Happy Holidays!
Cary Reich

Subject: Peacock Purse!
Date: 2001-10-7
From: Esslarson@aol.com
Hi Kathy,
I signed for the peacock purse today and it is absolutely fantastic. So beautiful! It is so much FUN (and unusual) when you get something and it is actually more wonderful than you had hoped!
Thanks again for another awesome purse!
Sue Larson


Subject: HEISEY BASKET
Date: 2001-10-21
From: OMNFTW@aol.com
HI, I RECEIVED THE HEISEY ORCHID BASKET LAST WEEK AND IT IS BEAUTIFUL - EVERY BIT AS ADVERTISED, IF NOT BETTER.
THANK YOU FOR YOUR PROFESSIONALISM. HOPE WE CAN DO BUSINESS TOGETHER IN THE FUTURE.
MANY THANKS,
CRAIG KRATOCHVIL

Subject: Heywood-Wakefield Server
Date: 2001-5-4
From: isirotta@webtv.net
Kathy,
Just received the Heywood Server. We Love It !!!! It is absolutely gorgeous and in perfect condition. Thanks for evreything. We are afraid to visit you, but I fear some day we will.......
IRWIN

Subject: Scuptura Vanity and Seat
Date: 2001-2-14
From: silverhart91@juno.com
Kathy and Ed,
We received a call on Monday morning that (our order) was on the truck and ready to be delivered! We got it that afternoon, and it is beautiful. The color matches the rest of our Sculptura set perfectly, now it is complete!
We also wanted to let you know we were impressed by how well the pieces were packed for shipping. We thank you very much! Keep up the good work!
Sincerely,
Marci and Todd Silverhart

Subject: Re: Mesh Purse Order
Date: 2001-1-4
From: Staci <skolevikes@mindspring.com>
Dear Kathy,
I received my purse today. This is my first vintage purse purchase and I just love it! Thank you for making it so easy to locate and purchase this item online. What a great experience!
Thank you.
Staci

Subject: Eames Rocker
Date: 2000-12-6
From: Jean P Boucicaut <jpb@tiac.net>
Thank You. I received the chair today, it's beautiful!!! Once again I'm very pleased buying from you.
Happy Holidays.
Jean


Subject: Franciscan Apple Teapot & Shakers
Date: 2000-11-6
From: Rakurdock@cs.com
Kathy:
Rec'd the Apple tea pot and salt/pepper shakers this morning. Everything perfect, I recently received a piece of glass by UPS from Steuben Glass in Corning, NY. Was not packed as well as this order, thanks.
Bob Kurdock
Follow-up 11/7: I spent time looking at the items today and was even more impressed with condition. I am sure my daughter will love them and I will continue to look in on your site. Thanks again.
Bob


Subject: VirtualCart order:1617-1673-9516 (Desert Rose)
Date: 2000-10-13
From: sensibag@hotmail.com

I just can't resist sending you a short note to tell you that my plates arrived yesterday and I'm absolutely delighted. They were very well packed and in perfect shape - and exactly what I wanted. (I must tell you that my original set was purchased by my great-aunt during WWII - and after almost 60 years of continuous use is in better shape than many of the newer pieces purchased during the last 20 years of my marriage.)
Your service was great and I'll be looking forward to ordering from you again in the future.
Vicki Sensiba (Stuttgart, Germany)


Subject: HW Table & 50's Boomerang Table
Date: 2000-8-30
From: Lzaxford@swbell.net
Hi Kathy,
The tables arrived yesterday and they are gorgeous. There were a couple of punctures in the biggest corrugated box (standard it seems for UPS these days), but enough peanuts surrounded the table that no damage was done. The H-W table is just right between our Eames lounge chairs.
The Boomerang table is show stopper. It is now the first thing guests will see upon entering our front door and quite worthy of this special position. I love it because, like my house, it is recognizably 50's, but more of the classicly designed, beautifully proportioned 50's than the kitsch that is so often associated with the decade.
I am extremely impressed by the refinishing of both pieces and was wondering last night if I need to perform any special maintenance to keep the tables looking good.
It has been a pleasure to purchase from you and I will keep visiting your site from time to time. Who knows what else I might find/need?
Liz (Houston, Texas)


Subject: Heywood-Wakefield Buffet
Date: 2000-8-23
From: slee@nationaljournal.com
kathy --
the buffet arrived last nite (great delivery service -- such a nice young man -- and on time!). it is absolutely perfect -- and looks TERRIFIC in the dining room. thank you so much! just call me another satisfied customer --
sally


Subject: McCobb End Table
Date: 2000-8-19
From: brad.e.schwartz@ac.com
Thanks for the fast turn around! I am very pleased with the quality and condition of the table. Thanks again!
Brad


Subject: HW Pieces
Date: 2000-8-5
From: "James Traylor" <jtraylor@kc.rr.com>
Hi Kathy and Ed,
I received my pieces on Thursday and they look great in my collection! I cleaned up the corner cabinet and fixed the door and it fits perfect in a 17" corner in my dining area. The chair looks great too. I will probably have the cushions re-done but it still looks good the way it is. Here are a couple of pictures with the pieces in my collection.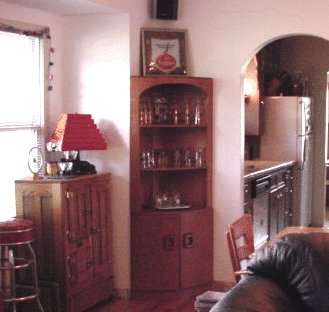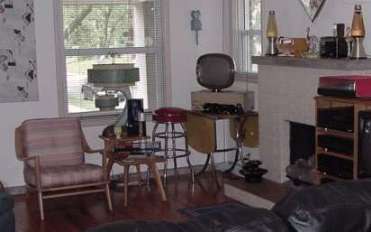 Thanks again,
James Traylor


Subject: Thank You
Date: 2000-8-2
From: RFox@optonline.net
I received my items (Chase candy and Swedish Pitcher) today and I am very pleased. I will definitely do business with you again!
Thank you!
Bev


Subject: Love it!
Date: 2000-6-26
From: scrptgrl@earthlink.net
Thanks . . . the pieces are great (--Heywood-Wakefield bookcases and pouffe--). I am very happy with them. The delivery guys were very nice and asked me exactly where I wanted everything ... I would recommend them. Thanks again.
Jackie


Subject: Diamond Chair
Date: 2000-5-4
From: tamielooney@mail.com
Hi Kathy!
I got my chair last Wednesday. I love that chair even more than I thought I would! It is awesome! It is so comfortable, too, looking at it you wouldn't think so but I think that chair is more comfortable than my upholstered chair in the living room. Thank you so much for all of your help.
Tamie



Subject: Fenton
Date: 2000-4-4
From: whittyp@bellsouth.net
Hi Kathy-
I received the cranberry coin dot epergne horn and perfume today safe and sound. I am very pleased with my purchase! Thank you for all your help! Keep me in mind if you come across an more Fenton cranberry opalescent.
Lani Whitty


Subject: Silver Compacts
Date: 2000-3-23
From: Victorson@email.msn.com
Hi Kathy,

Received the compacts yesterday, and I am delighted. Thank you. You did an
excellent job packing them as well. Looking forward to the next purchase.
Kay


Subject: Purse #7653
Date: 2000-3-16
From: Victoriana@pdq.net
Dear Kathy,
I received the purse yesterday evening and I am totally thrilled with it! It is indeed exquisite and I love the frame! Cabbage roses are my favorite and I really love ornate frames. I am so thrilled to be able to have this absolutely wonderful purse!!!
Thanks so much!
Regards,
Kathy Fisher

Subject: Heywood-Wakefield Cat's Eye Chairs and Smile/Frown Captains Chairs
Date: 99-12-29
From: GEKUPHAL@aol.com
I just want to let you know how very happy we are to get four Cat's eye chairs and the two Smile/Frown captain chairs. They arrived while my mother was here for a Thanksgiving visit. My mother was impressed. The quality and description of the condition was very good, they are similar in wear and condition to my present dining set. I would recommend your store to anybody who is looking for similar furniture. Thank you for being open and frank with the willingness to work with me and my many questions.
It was extremely exciting to use these chairs at the end of the Thanksgiving holiday and of course at Christmas.
Again, Many Thanks for one of my dreams completed.
Grace E. Kuphal

Subject: Eames Lounge Chair
Date: 99-12-12
From: bryantschanz@worldnet.att.net
Hi,
I got the chair on Wednesday, and I have to say I was disappointed. I thought this chair was from 1984, but it looked more like 2004! It is perfect! (as you can tell, I was pulling your leg about being disappointed.)
Thank you so much for the opportunity to purchase such a gem. The leather is very supple and in great shape. I went over the entire chair with a fine tooth comb, and saw only one or two VERY small imperfections that I can easily rectify. The wood is gorgeous. The packaging was excellent as well. The entire transaction was great.
Thank you,
Bryan Tschanz


Subject: Five Beaded Purses
Date: 99-11-19
From: rebeltwo@gateway.net
Hi,
Just wanted you to know I just received the 5 beaded bags I had ordered. I am so pleased with them. They will look beautiful hanging on the wall with my others.
Thank you for your prompt service.
April


Subject: VirtualCart Order (Heywood-Wakefield Center Table)
Date: 99-10-30
From: stephan@norfolk.infi.net
To: Kathy & Ed
Received table on Friday, 10/29. It's beautiful! Exceeded our expectations. We placed the table in our living room and it looks great.
Looking forward to more shopping at Tri-State.
Thank you,
Brooks and Darcy Stephan


Subject: Got my Nightstand!
Date: 99-9-22
From: Muddler5@aol.com
Hi folks,
I was out of town and when I got back UPS had delivered my lovely Sculptura nightstand. It's almost too nice to hide away in a bedroom!
Thank you,
Dan Landau

Subject: Heywood Wakefield Sofa & Table, Bertoia Chair
Date: 99-9-13
From: detour@earthlink.net
Hello you two!
Well all my stuff arrived TODAY!!!!!! All in perfect condition, delivered with a smile and a hand up the driveway. All in all a most satisfying transaction.
Thank you again for the hassle free experience!!!
Best regards and happy trails,
Ann Henderson Wachtel
NATURAL ORDER LANDSCAPE DESIGN
(Altadena, California)




Subject: Purse Received
Date: 99-9-2
From: MAYBROOK1@aol.com
Hi, I received my red vanity bag and just love it! Now, I just have to figure out how to take the old lipstick out and put mine in, but I know I shall enjoy using it ... a lot! It is quite the conversation piece! Many thanks.........


Subject: Scenic Beaded Purse
Date: 99-7-27
From: HAROLDR@prodigy.net
Hi Kathy,
The purse arrived today and it is beautiful. I will be watching your website....hope to do business with you again soon....if anyone would be nervous about purchasing through the internet, working with people like you would rest all fears!
Thanks, Gloria


Subject: Heywood-Wakefield Diningroom Set
Date: 99-5-9
From: Stick4107@aol.com
The furniture looks awesome! We are pleased and very satisfied with your company.
We are still looking for a couple pieces ... if you run across any of these please contact us.
Thanks again,
Chris and Jennifer Boettcher

Subject: Simon & Halbig "Santa" Doll
Date: 99-3-13
From: ryutarou@msi.biglobe.ne.jp
Today Santa (doll) has arrived in safely. Especially my mother is very pleased!!
Thanx!
Maiko (Japan)



Subject: Blue & Gold Purse on Ebay
Date: 99-3-10
From: PBodor6401@aol.com
Hi Kathy,
I received the purse today and it truly is really gorgeous. I am thrilled with it and look forward to using it as well as admiring it.
Thank you, Melina



Subject: Thank you
Date: 99-3-8
From: AHarbst@pintowers.com (Amy Harbst)
Dear Kathy,
Thank you so much for the beautiful Heywood-Wakefield pieces! My husband and I are thrilled! As you know, I was very nervous about ordering furniture over the internet, but I was worried about nothing. The furniture was packaged beautifully and the whole process went smoothly. Please keep us in mind if you find a matching dresser.
Thanks again.
Sincerely,
Your #1 Fan, Amy Brown Harbst




Subject: Purse Order
Date: 99-2-12
From: janet_topps@email.msn.com (Janet Topps)
Hi Kathy,
Just to let you know, I have today received my 2 purses, they are gorgeous, will have to order some more. I am very pleased.
Many thanks,
Janet (England)


Subject: W & Davis Scenic Castle By The Lake (#5950)
Date: 99-2-6
From: John Eaton <eatonj@worldnet.att.net>
Kathy:
We received the W & D Scenic Castle purse yesterday. It is everything you described and more. We are very pleased and impressed with the entire transaction.
Bill & Patty Eaton



Subject: Delivery (Depression Glass)
Date: 99-1-28
From: hkollar
Thank you for the delivery of Madrid amber glass I ordered. I received it last night, inspected it - it was great - washed it and put it next to my other lovely pieces in my dish cabinet. Thanks again. I hope I will be doing business with you in the future.
(H. Kollar)



Subject: Knoll Pieces & Bertoia Wire Chairs
Date: 99-1-28
From: Mike & Tina Dula
Hi, Ed and Kathy
We received the Knoll rails for the bottom of the Bertoia chairs. Thank you very much for ordering them and then sending them off to us. Just thrilled with the Bertoia's as they look great with an Eames aluminum table base and just a white laminate round table top.
Thank you again for your help. I was extremely pleased with how quickly things were shipped, etc. And packed!
Regards, Tina Dula



Subject: Heywood Wakefield Armchairs
Date: 99-1-27
From: Rob Rockefeller <rsrock@flash.net>
Hi Kathy and Ed,
The chairs arrived today safe and sound and we just LOVE them! They look superb in our living room with the rest of our Heywood Wakefield stuff. We'll be in touch whenever we need another piece of H.W.
Thanks so much, Allison and Rob



Subject: (HEYWOOD WAKEFIELD CHAIRS)
Date: 99-1-23
From: MAMABROAD@aol.com

ABSOLUTELY LOVE THE CHAIRS!!!!! IF YOU HAVE THE ARM CHAIRS #M6107C, PLEASE LET ME KNOW. EVEN MY HUSBAND IS DELIGHTED.
THANK YOU VERY VERY MUCH.
TERRY ADLER




Subject: BERTOIA SIDE CHAIRS ARRIVED SAFELY!
Date: 99-1-23
From: DDODD2001@aol.com
Hey Kathy!
Wanted to let you know that the chairs arrived well & I'm very pleased. I know we'll be doing this again.
I hope you're doing ok and "weathering" the weather!
Thanks again,
Dana




Subject: Frankart
Date: 99-1-13
From: decolectibles <decolect@cyberramp.net>
Hello,
Just a quick note to let you know I appreciate the great packing and the candle stick is wonderful !!!
Please feel free to send an email whenever another Frankart item comes in your shop.
Thanks ,
Jeff Leegood




Subject: Whiting & Davis Dresden
Date: 99-1-7
From: Summer22@aol.com
Dear Kathy,
Just wanted to let you know that the purse arrived today & I do love it.
It really is gorgeous.
Delores




Subject: Purses
Date: 99-1-6
From: "ljl" <lucjl@worldnet.att.net>
dear kathy
the three purses finally arrived yesterday
my wife was delighted
best regards,
luc




Subject: Whiting & Davis Mesh Purse
Date: 98-12-7
From: BDas327855@aol.com
Dear Madam:
I received the Whiting and Davis silver mesh purse today. The purse is so beautiful and in such good condition I'm amazed. The purse really cheered my spirits up. In addition to this and the fabulous scenic tudor purse I would like to purchase another purse from you. . . . Thank you.
BDas327855@aol.com




Subject: Riviera
Date: 98-10-21
From: "Rebecca Gatton" <reba@281.com>
Just want to let you know that I did in fact receive the Riviera ... everything was great. I'm really very pleased with all the pieces ... and the packing was beautiful!!! Thanks again, I'll be checking your site every so often in hopes to add to my collection ... or let me know if more pieces come your way. Thanks again,
Rebecca



Subject: Thanks so much!
Date: 98-10-1
From: Infectsub@aol.com
Ed & Kathy,
The Wakefield Credenza, table, and chairs all arrived safely today, we can't thank you enough. They look fantastic in our dining room, we can't put into words how much we love it. We had a great time visiting your store this past weekend, and we know we'll be buying more from you in the future.
If you could keep your eyes out for a pair of wheat smile/frown arm chairs (M953C), and a wheat Revolving Cocktail table (M306G), we'd appreciate it.
Its been a pleasure dealing with both of you, thanks so much.
Rod & Mary Jude Weaver, Falls Church, VA



Subject: Clock Received
Date: 98-8-16
From: Keith McElroy <mcelroyw@okinawa.usmc.mil>
Hi Again Kathy,
I received the Northbury Clock this afternoon! The clock arrived in excellent condition and it is working fine. It was not only amazing to get it so fast (yes, the Military does a great job with the mail) but how I got it.
My Grandmother had a Seth Thomas Northbury clock that I grew up with and loved hearing the Westminster chimes. My Aunt and Uncle now have the clock as it was willed to them. I had thought of "stealing" it but they would know right where to look first, Ha! I've been in hundreds of antique shops all over and never found one coming even close.
I just got the Internet on my computer (here in Okinawa) a few weeks ago and was "playing around" with it to learn how it works. One of my Assistant Fire Chiefs challenged me to find something that I'd been looking for or wanting and immediately I thought of my Grandmother's clock. Late one night on the Internet I type "Clocks Mantle Seth Thomas," click on your web site looking at your clocks, and then JUMPED three feet out of my chair when I saw my Grandmother's clock!!!
I am very pleased with it and I thank you very much in helping me buy it and for your careful attention to packing and mailing. Looking at it brings back many wonderful memories. Also, I have had many wonderful comments about the clock, and when I tell the story of how it came to be, it seems everyone has a clock they are looking for. I hope more business comes your way. I'll always be indebted to you for 1) being in business to begin with, 2) for your outstanding service, and 3) providing me an instant family heirloom.....
Your Friend, Keith McElroy
Deputy Fire Chief for U.S. Marine Corps Bases in Japan, located on Okinawa



Subject: Thanks!
Date: 98-6-14
From: Russ Kohr <kohr@tidalwave.net>

Kathy,
We got home to Northern Virginia late Saturday afternoon and had the Heywood Wakefield Corner Cabinet in the dining room 10 minutes after walking through the door. We love it!
Thanks again for your help. It was a pleasure doing business with you.
Russ & Kathleen Kohr, Ashburn, VA
PS - We will be checking your WEB site often!

Subject: Eames Executive Leather Chairs
Date: 98-6-3
From: spgoldman@worldnet.att.net (Stephen Goldman)

Kathy Burch --
OK, you were right, the two Eames executive leather swivel chairs do go together. I'd like to order the one still left. The chair wasn't quite what I expected, although I love it. The Eames desk chair I hoped to replace -- and now will find a way to repair -- is the tilt-swivel model, on casters. The one, now two, chairs I bought from you are a little too low to be desk chairs; but they're terrific guest chairs.
I'm copying Duane Smith, with thanks for a fabulous packing job, and my hope that having to do another one won't be too burdensome.
Thanks! Stephen Goldman



Subject: 50's Lounge Chairs
Date: 98-6-3
From: Diana Jones (soho@airnet.net)
Kathy,
Just wanted to let you know the 50's turquoise lounge chairs arrived about 10 days ago. Thanks for expediting the shipping. We love the chairs. Very comfortable and funky and in great condition just as you promised. Now we are looking for dining chairs, probably Heywood-Wakefield, which is how I found you in the first place. So you will be most likely be hearing from me again.
Thanks............Diana

Subject: Nelson Ball Clock
Date: 98-5-15
From: EWolf@LIMITED.com (Ed Wolf)
Hi Kathy:
Thanks for the clock. It's a beauty. It's in great condition. I'm still amazed I have it, we've been looking for one like this for a long time. My five month old son stares at it. We just took it in for a new cord today.
Ed



Subject: Heywood-Wakefield Sectional Sofa
Date: 98-3-4
From: Abyss62@aol.com
Dear Kathy,

We just got the sectional today and it looks great ! You were right, they do look much better in person than in the picture. Thanks for everything ! (especially the layaway plan). It was a big help. Also thank Dwayne for getting it here with no problems too! We'll send you a picture when we get the corner table. Thanks again for everything.
Joe & Karen Verdi (New York City)


Subject: Seeburg "200" Wall-O-Matic
Date: 98-3-2
From: posthum2@ttc.com (Mark Posthuma)
Dear Kathy:
I just received the Seeburg "200" Wall-O-Matic. Everything was in fine shape. You were right - I'm very happy with my purchase.
Thanks Much,
Mark

Subj: WAF Hammered Aluminum Serving Tray w/Stand
Date: 97-12-03
From: csrterry@earthlink.net
To a Dear Kathy:
Oh my goodness -- what a find, what a treasure -- it really belongs in a museum. Thanks to your kindness, I am now in possession of the find of the decade - that aluminum serving tray w/stand, not to mention those four balls on each end, are hand hammered. Also, the Kenginston cigarette box is wonderful, too.
Now, that packing deserves its own page. Who made the box? What a piece of craftsmanship it was.
Thank you for the opportunity to obtain such treasures.
a grateful Cecelia Terry (California)

Subj: 3 Deco Lights
Date: 97-12-03
From: dlinge@tiger.avana.net (DeAnna Linge)
Just wanted to let you know that the 3 lamps arrived today (12/2) in great shape! Very big boxes too! We have already found places for them. We received the receipt yesterday.
We will keep checking your site for new stuff. Thanx!
Jack & DeAnna


Subj: Hokinson Plates
Date: 97-12-03
From: thomp034@maroon.tc.umn.edu (Steve Thompson)
Kathy,
Just a quick note to let you know that the plates and the book arrived Tuesday, having survived the perils of UPS. An excellent packing job on the plates! The plates look great, and the chip on the one is not particularly noticeable. My wife says she thinks many of the characters shown are still members of some of her organizations.
Thanks again. If you should run across any other older (generally pre-1960) cartoon related non-book items like this, I hope you'll keep me in mind.
Steve
Steve Thompson
Principal Secretary for Graduate Studies
U of MN Dept. of Theatre Arts & Dance



From: GIFOS@aol.com
Date: 97-11-20
Subject: Chase Buffet Oven
Got oven. A truly beautiful piece. Thanks!
Rhonda


Subj: Encore dresser
Date: 97-11-18
From: jtraylor@qni.com (james traylor)
To: parplus@city-net.com (Duane P. Smith)
CC: TSAntiques@AOL.COM
Duane and Kathy,
I picked up the dresser on Saturday at ABF Freight. It was shipped in good condition with no damage. Thanks to both of you for setting up the purchase/shipment of this dresser. It fits in well in my Encore bedroom suite.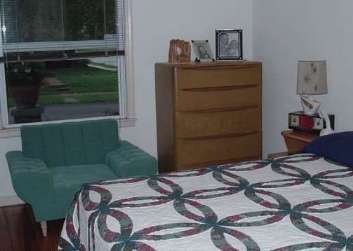 Thanks again, james traylor (Kansas City)