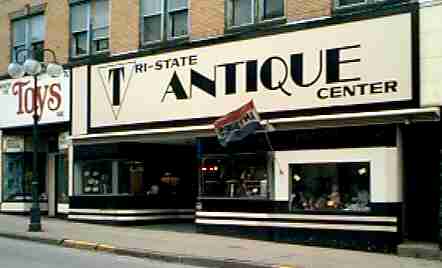 1. How long has Tri-State Antiques been in business?
2. Who owns Tri-State Antiques?
3. Is your site secure for online shopping? Do you belong to any internet safe shopping organizations?
4. Where is Tri-State Antiques located? Do you have a retail facility open to the public?
5. When is your store open?
6. How do I contact Tri-State Antiques?
7. How do I navigate your website?
8. What type of merchandise do you offer?
9. How do I pay for an item I want?
10. Do you offer Layaway?
11. How do I purchase something on Layaway?
12. What is your return policy?
13. Many of your items include shipping. How is it shipped?
14. How soon can I expect delivery?
15. Can you take less on a particular item?
16. Do you buy items from individuals?
17. Can you tell me what my item is worth?
18. Do you offer Gift Certificates?

1. Tri-State Antiques has been in business since 1983 in the Pittsburgh area, first under our parent company name Grandpa's Whiskers Antiques, which was changed to Tri-State Antique Center when we moved into our large facility in Canonsburg. (Top)
2. Kathy Burch & Edward Grzybowski are the store's proprietors. Marge Eiben is our Executive Assistant and Store Manager. (Top)
3. Yes, shopping online through our secure shopping cart is easy and safe! Our SSL (Comodo) certificate can be viewed at the lower right of our home page and this page. Our company is a registered member of the Netcheck Commerce Bureau and is also listed with Dun & Bradstreet. We pride ourselves on maintaining a high standard of ethics for doing business on the Internet, and customer satisfaction is our primary goal. Customers' testimonials and news articles about Tri-State Antiques can be read on our Reading Library page. (Top)
4. Tri-State Antiques is located just south of Pittsburgh in southwest Pennsylvania. We are only minutes away from the I-70/I-79 junction for easy access to travelers. Detailed directions are available on our directions page. We have two facilities in the same block encompassing over 20,000 square feet and we strive to provide a wide array of merchandise for our clients. In addition to buying and selling, we also do rentals for movies, photographers, and even artists! (Top)
5. We are generally open Thursday through Monday from noon to 5 pm and closed on Tuesday and Wednesday. As we are not a co-op but a two-person partnership, we are closed periodically to accommodate our schedules. Therefore, if you are coming from a distance, we strongly advise that you call ahead. If possible, we will be more than happy to accommodate you. We also post on our Facebook page and Twitter notifications of any closings we have scheduled. If you are picking up furniture, please note that we require 24 hour advance notice or your pick up may be subject to delays. (Top)
6. There are many ways of reaching us here at Tri-State Antiques. During our normal business hours, you can often reach us online through our Live Chat service (see bottom left corner of this page). This is always available from our home page and on many of the secondary pages as well. If it says we are available, that means that we are online and can respond to an inquiry. However, you should be aware that we may be busy with an in-store customer, a phone call, or away from the computer, so please be patient and wait for a response. If we are not signed on, you can use this window to send us a message we will receive when we return. Other ways to reach us can be found on our contact page. Most emails are answered within 24 hours. (Top)
7. Due to the huge amount of diverse inventory that we carry, we have tried to divide our website into different "departments" to make it easy to shop. Our home page features an in-depth category index on the left side of the page with sub-categories under several of the headings. Also, at the bottom of each and every webpage in our entire site, you can access any other page from our drop-down box. This will allow you to jump quickly from one department to another with the click of a mouse. And we also provide a sitemap in addition to these easy navigation features. (Top)
8. While we do offer the usual line of general antiques including furniture, pottery, clocks, toys, and glassware, our specialties are directly related to the two owners, Kathy & Ed. Ed has specialized for over 20 years in mid-century modern design furniture and accessories and was a leading dealer in vintage Heywood-Wakefield furniture long before the current trend began. Kathy's interests have always been in the antiques end of the business with vintage purses, fancy lady's items such as enameled compacts and vanity pieces, and antique dolls being her personal loves. Our two facilities house thousands of items of which our website is only the tip of the iceberg! (Top)
9. Paying for merchandise is as easy as clicking your mouse. We offer secure shopping cart service where you can order by credit card online. We also accept payment through Paypal if you prefer to pay that way (you do not have to have a Paypal account to use this service). Just let us know what item you are interested in and we can provide a Paypal invoice for you. We have eliminated the option to pay by check. We do apologize for any inconvenience this may cause you, but it has been our experience that 9 out of 10 checks in the mail never arrive. It placed us in an uncomfortable position to tell an out-of-town visitor that he could not purchase an item he wanted because we were waiting for a check to arrive. And although you may be that one person in ten who does follow through, we made this decision based on the majority. You are still welcome to send your check for an item, but it is subject to prior sale. If the item is not available, we simply void your check and return it to you. (Top)
10. YES! We do offer flexible layaway plans for our merchandise. Furniture and collectible items require 20% down and the terms and conditions can be read here. For purses, compacts, vanity items and dolls, special terms have been allowed since these items are small and do not require storage space. To read the details of the layaway plan for dolls and purses, click here. (Top)
11. If you wish to purchase an item on LayAway through our shopping cart, simply write in the special instructions that you wish to use our LayAway plan. We will make the adjustment in the charge amount when we process it. Remember ... we process your charge here in the store, the shopping cart is simply a secure way to transmit your information. So even though the amount will show up as the full amount, we will only charge you for the amount of the LayAway. (Top)
12. Customer satisfaction is our most sincere wish. That is why we go to great lengths to accurately depict and describe each and every item on our website. However, we must stress that we are selling vintage and antique items that have been used so do not expect them to be brand new. Particularly with furniture, if you are looking for items that have been unused, then don't purchase vintage. No matter how good the condition, the pieces are still old. Clocks do not come with warranties, and electrical items such as lighting should always be checked for safety. We do not do this! If we were to begin rewiring all our lighting, prices would be astronomical. So the burden of responsibility for safety of these items belongs to the purchaser. For further information regarding our satisfaction guarantee, please read our Return policy. We have a less than 1% return ratio, so we believe that our customers have been pleased with their purchases. (Top)
13. Many of our items DO include delivery to anywhere in the Continental U.S. For smaller pieces we use UPS with signature required. If you are not available to sign for shipments, please make alternative arrangements or request delivery without signature; however, we advise against this for higher value items. Large pieces are shipped via one of several carriers we use (PakMail being one) and we will get a quote for you prior to processing your order. In order to provide you a quote, we will need an accurate delivery address. This is why placing your order via our secure server will ensure that we have the proper information to provide a shipping quote to you. REMEMBER .. nothing will be charged to you until you are notified of a shipping price and you have agreed to it. (Top)
14. UPS picks up at our store Monday, Thursday and Friday, so small items are shipped out within 24-48 hours. All of our items are sent insured and tracking numbers can be provided upon request. Larger pieces that go by freight must be first picked up by the packing company and then sent via common carrier. Pickups are made on a weekly basis and are almost always on their way to you within 3-5 days. Depending on where you are located, you may have your item within a week but almost always within two weeks. (Top)
15. We wish we could!!! When we first started on the internet, we learned that most people never asked for a discount. So we repaid that kindness by posting our lowest possible selling price. Remember that many of our items include shipping, and on large items, this can be several hundred dollars. Bedroom sets can cost $1000 to ship, so the prices you see do not represent the selling price of the items. While we are not a non-profit organization, there are many times I feel that we are! Neither Ed nor I take a salary from the business and any profit that is generated goes back into inventory and to the substantial costs of operation. (Top)
16. Yes, we do buy from individuals. However, as the seller, we expect you to come up with the price. We do not make offers, nor do we do appraisals. If you have something you wish to sell to us, please email us with pictures, prices, location of item(s), and as much information as you can provide. It is much easier to us to determine our interest once we have the specifics. (Top)
17. Please see our page regarding Appraisals for help on this subject. (Top)
18. Yes! We do offer Gift Certificates! Click here for more details. (Top)